Having poked around the forums I see only small random posts about Steins; Gate. That includes me that predicted elsewhere that show would be a huge cosplay hit it at Naka-Kon 2012. It wasn't. The group is really quite good & only requires a T shirt & white lab coat to play the main character, Rintarō Okabe aka Okarin.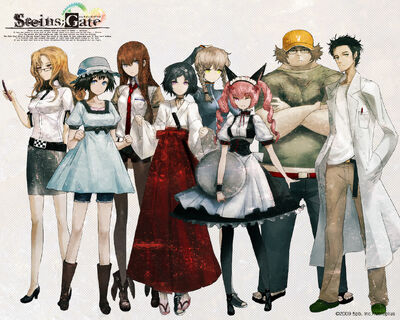 There's a huge amount of info on this series on the net so much if you read half of it you may not feel the need to actually watch the show. Ok so, I love stories about invisibility, Frankenweenies, time travel. For time travel fiction I love how they tie up story lines between past, present & future. Sometimes not so good, other time strongly captivating. Steins; Gate is the latter. It's been a long time since I really looked forward to carving out must have viewing time, must see what happens next. Where Gankutsuou truly captivated me some time ago for visual energy, I'd say S;G is very attractive too but the geekeiest of geeky anime I have ever seen. It has been streaming here & there but I'd really suggest going for the Blu-rei. TRSI has a good price. I think this is excellent entertainment but maybe you should do a little research in a different way before you watch it. If you don't you'll just sit down & surf the web while viewing just to keep up with what's happening.
So where to start? With John Titor, of course.
http://en.wikipedia.org/wiki/John_Titor
How crazy & wonderful that an anime series should draw inspiration from American usenet newsgroup postings about time travel.
And then there's the IBN, I mean IBM 5100 PC:
http://en.wikipedia.org/wiki/IBM_5100
Something I never heard of before this show. Just amazing how far we've come & look! There's even a commercial for it:
Maybe like me you are concerned that SERN I mean, CERN is a world power not unlike NERV determined to destroy/save the world. We all know about the Large Haldron Collider but did you know it has it's roots as far back as 1954? I learned that after watching Steins: Gate.
http://public.web.cern.ch/public/en/About/About-en.html
And never mind about Y2K. Aren't you concerned about the The Unix Millennium Bug (or Y2K38)?
[url]Article Source:
http://EzineArticles.com/3074397
[/url]
But alongside the techno stuff is really good ensemble acting. Characters are introduced in a smooth & good way until the groups is built up. The only character that I really dislike quite a bit is Mayuri Shina. My problem with her is she is supposed to be a former classmate of Okarin but she looks about half his age, acts about half of that but has big Gainax boobs. That stereotype has just worn thin over time with me. She is however a very important aspect in series, esp in 11 to 13. And I know others will love her for the same reasons I don't care for her. And so dutiful respect:
Okarin & his Future Gadget Lab team lives above a TV repair shop. Really. In fact I have to say that my most favorite minor character goes to Yūgo Tennōji. Yeah he even wears a work apron that says "I Heart CRT"
So grab a can of DK Pepper, I mean DR Pepper, grab a white lab coat & check it out.